Join our Mission Team in China
Join us in our mission to show Christ's love to the people of China
Mission Opportunity
China is a nation that has changed enormously over the last 30 years, both politically and economically. In that time it has embraced trade with the rest of the world and greatly opened to relationship with other nations. These vast changes have created a curiosity in the Chinese people and a special openness to truth. As a result millions of Chinese people have received Jesus Christ as their Lord and millions more remain hungry to hear the gospel and see the good and holy lives of those who love Jesus.
One of the most exciting ways we have found of sharing the gospel is by working as an English teacher. We are looking for Christians who want to experience the adventure of living in China, the challenge of helping students to learn the English language, the joy of making Chinese friends and the blessing of allowing others to see your good deeds and praise your Father in heaven.
Why English teaching?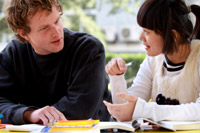 English is a compulsory subject in all universities in China, creating a high demand for English teachers. There are thousands of unfilled posts across China as the demand for teachers with good English far outstrips supply. Native speakers are treated with special honour and are highly valued in China.
What is it like to be an English teacher in China?
Schedules will vary from university to university but most will ask you to teach only 16 hours a week and some even less. In addition to this you will need to allocate time to lesson preparation, although our organisation has many experienced teachers who will be able to help and resource you in preparation for your classes.
Teaching in China is a very gratifying role. Students place great value on education and are very appreciative that foreigners have come to help them learn. Generally the students find that their foreign teachers are a lot of fun as the teaching styles we use in the Western world are much more interactive than learning by rote, which they are more used to. Most teachers become close friends with their students and have a great deal of affection for them.
How can I share the gospel?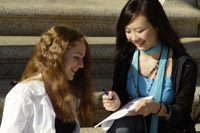 Our motivation for sharing the gospel with students is out of compassion for those who have never had the opportunity to know the grace of God. As such you will be aiming to make friends with your students and allowing mutual love and respect to grow between you. In the context of these relationships it is natural to share the things that are important to you and out of this we have often seen students saved. We discourage public preaching but instead have seen much fruit in allowing others to get to know us, see the changes that God has made to our characters and decide for themselves if they want to follow him.